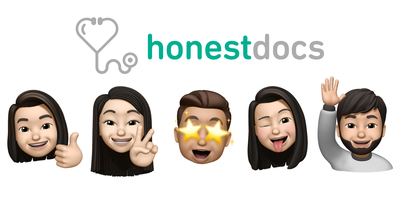 🐵 Internship 2020 - Indonesia / Thailand
Founded in 2017 by a team of experienced startup veterans, HonestDocs is one of the fastest growing digital health platforms in Indonesia and Thailand. Our vision is to improve health and wellness of Southeast Asians by making reliable health information, products and services accessible to everyone.
Our app frequently tops the Health & Fitness category charts in both the Apple App Store and Google Play Store, with an average rating of 4.8+ out of 5.
We're looking for interns in 2020 to assume a management trainee / entrepreneur-in-residence role that will span multiple functions. The 2020 intern will play a key role in leading and driving different exciting projects across the business that could include streamlining operations, increasing sales, expanding the business to new markets and much more.
We are looking for someone who is not looking for a 9-to-5 job, willing to take on new tasks and get their hands dirty. You will learn a lot, help shape the direction of this young and promising startup, grow with us and impact lives.
This role is perfect for a smart and driven student who's not interested in going down the conventional corporate "career path" (e.g. Fortune 500, Big 4, consulting, banking, etc.). Instead, you're looking to work with a small group of people who've helped build some of the most notable tech businesses in Southeast Asia and groomed the next generation of tech leaders in Thailand, Indonesia and beyond.
Responsibilities:
Assess business needs and propose improvement plans
Own projects' success from planning, project managing, implementing, solving problems and improving results
Work with teams such as marketing, operations, customer service, product and tech as needed
Any ad hoc tasks necessary to get stuff done
Qualifications:
Service-minded and wanting to go the extra mile to help customers (most important attitude)
Able to use LINE@ and basic MS office skills
Willing to learn basic HTML and CSS to manage website content
Detail oriented
Structured thinking
Attitude over experience: need people who take ownership and have a can-do mindset
Non-stop itching to want to fix stuff and make things better
Open-minded and willing to learn a lot
Ability to write well
Nice to have:
Interest in healthcare
Prior background: ecommerce, operations, on-demand
Majors: business, engineering, computer science, marketing, communications
Want to work in a fast-growing startup
Previous internship experience in tech startups