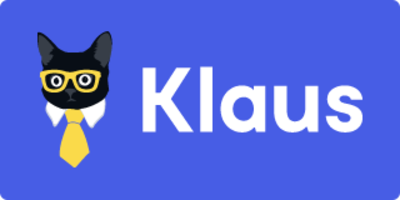 Multimedia Storyteller
Klaus is a conversation review and QA platform for support teams.

Our product defines a new category of software aimed at increasing the quality of customer service. Launched at the end of last year, we're rapidly growing our customer base with names such as WordPress.com, Soundcloud, Wistia, Trivago and PandaDoc already using our tool. Having recently secured a €1.7M investment from Europe's leading investment firm Creandum, we're looking to add some firepower to our rapidly growing team.
If you have strong video editing skills, can create and tell a story in short format, and have the ability to write and produce creative, snackable content – then listen up!
What you'll be doing:
Creating and developing multimedia content from feature videos to animated explainers to support the company story and product,
Producing short-form content, including video, animation, GIFs, and social posts,
Assisting the team in developing innovative video concepts,
Managing and overseeing all technical aspects of video production,
Working both on and off-site (some travel is expected),
Collaborating with the marketing and product teams,
Helping to develop an overall video brand messaging strategy.
What we're looking for:
Basic working knowledge of After Effects and associated CC software,
Proven track record as a video specialist in a similar role,
Knowledge and a good understanding of motion graphics,
Ability to self-motivate and stay on task with minimal supervision in a fast-paced environment,
Strong storytelling skills and excellent writing/editorial skills,
Good time-management skills,
Relentlessly high standards and an eye for detail,
Previous experience at a startup/SaaS company is a plus,
Located in Tallinn, Estonia, but we are open for the right remote candidate, assuming significant past remote work experience and located in UTC to UTC+5
What we're offering:
Work in a rapidly growing startup environment, expect turmoil
Freedom to execute your vision
Base pay + meaningful stock option package
Lots of cat gifs
If this is something for you, send your resume or a link to your LinkedIn profile, a snapshot of your previous work, and please add why we should pay extra attention to your application.